It's time for a business approach to African agriculture. Making farming profitable can offer multiple benefits: livelihoods for young people, global food security and a higher quality of agricultural produce for consumers.
Read more >
Building a prosperous rural Africa
Farm Africa reduces poverty by helping farmers in eastern Africa to grow more, sell more and sell for more.
With our help, rural families are growing their incomes while also protecting their local environment for generations to come.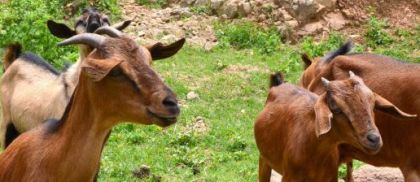 A few reasons why Farm Africa invests in goats in eastern Africa.
Learn more >
Boosting incomes and ensuring fish supplies for future generations.
Find out more >
Our autumn edition of #FromTheField explores fish farming in Kenya & our work to reduce deforestation in Ethiopia…
https://t.co/8XI8mpMjWF
5 hours ago
That's an epic #FishFace! We're at #UoEAgriBizFair2017 talking about how #aquaculture is boosting incomes &…
https://t.co/NoeUB5al6u
21 September
The #UoEAgriBizFair2017 is under way at Eldoret University. Come along to talk #aquaculture with @FarmAfrica…
https://t.co/k5iso4kvuH
21 September
Join the conversation >
How we spend your money