End hunger - grow farming
Farm Africa reduces poverty by unleashing African farmers' abilities to grow their incomes in an environmentally sustainable way.
With our help, rural families are building a more prosperous life that allows them to take charge of their futures.
Kenyan comedian Gilbert is helping young people in Nairobi swap the office for the farm.
Gilbert's story >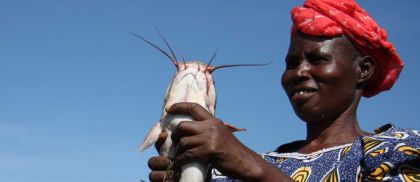 UK food industry executives helped villages in Kenya and Tanzania start new business. They returned to see the progress made.
Read more >
As #WWWeek begins, @FAOnews' Eduardo Mansur speaks about irrigation in African agriculture:
https://t.co/seesrg5Feh
https://t.co/G1kpCSz7F5
30 August
Onesmus grew up on a farm in Kitui. Now he helps other farmers grow drought-tolerant crops:
https://t.co/HymBHwWEW1
https://t.co/lXuYKeMjSn
29 August
We've been helping farmers like Sabina keep chickens so she'll have food & income if poor rains affect her crops.
https://t.co/0zTIgMdB5b
29 August
Join the conversation >
How we spend your money