25 years in Ethiopia
09 December 2013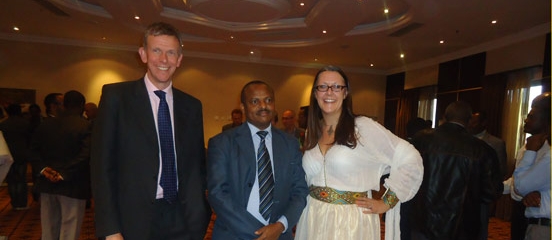 image - left to right: Nigel Harris, Chief Executive, Farm Africa; His Excellency Ato Sileshi, State Minister for Agriculture in Ethiopia; Michelle Winthrop, Country Director for Ethiopia, Farm Africa.
Farm Africa recently hosted a very special evening at the Capital Hotel in Addis Ababa to celebrate 25 years of continuous service in Ethiopia since the organisation started its work there in December 1988.
The event brought together some very high-profile guests to celebrate the enormous contribution made by Farm Africa to improving and developing the lives of so many Ethiopians. State Minister for Agriculture, His Excellency Ato Sileshi Getahun, addressed the guests on the long-term impact of Farm Africa's work. The event was also attended by important partners from other NGOs, Government, the private sector, and donor funding partners.
Farm Africa was also thrilled to see a number of ex-staff (our 'alumni') who had moved on or retired over the years.
Speaking to the guests, Farm Africa's Chief Executive Nigel Harris spoke of how "we are deeply proud as an organisation to have served the country and people of Ethiopia for twenty-five years". Nigel also paid tribute to the assembled former Farm Africa staff who were previously part of the professional fabric of the rural development community. Many of our former staff have used what they learned at Farm Africa to good effect in new posts with different organisations.
Strong government support
Nigel also noted the incredible support and co-operation of the Ethiopian government in ensuring the smooth progression of Farm Africa's work over the years:
"Our relationship with the government has been and will always remain a top priority for Farm Africa, and I would like to thank the government for its support of our work over these twenty-five years."
The guests were also privileged to hear from two community members from Farm Africa's forestry project in the Bale Forest. They spoke movingly about the impact Farm Africa's work had had on them and their families.
Challenging early years
The evening provided a perfect opportunity to reflect on just how far Farm Africa's work in Ethiopia has come in the 25 years since an agreement was first signed with the Ethiopian Government, allowing Farm Africa to begin its operations.
Ethiopia was a hugely challenging place in which to work in December 1988. The communist regime, known as the Dergue, was in the final stages of collapse and a hugely debilitating civil war in the north of the country had taken its toll on the population.
Into this situation stepped Dr. Christie Peacock, Farm Africa's first representative in Ethiopia, who went on to become Farm Africa's Chief Executive Officer for 12 years. With no office, bank account, PO Box or staff, and with just £120,000 of funding from Band Aid, Christie set up the Dairy Goat Project. Its aim was to help extremely poor and vulnerable women who had become widows as a result of drought or the civil war.
Women received two goats on credit, together with training in goat husbandry. The idea was to improve the performance of local goats through cross-breeding to the point where they could produce between one and two litres of milk a day. It was hoped that this would improve the nutrition of small children and give poor families an asset to sell in the form of surplus male goats.
Both Christie and longstanding driver Ato Damtew Legesse were asked to reflect on some of their happiest memories over those years. Christie recounted a gruelling field visit she had co-ordinated for a UK Government delegation many years ago. Apparently the field visit wore down the delegation to such an extent that they finally agreed to fund our work! And Ato Damtew stated proudly that the 25th Anniversary was the happiest day of his life.
Expansion and success
Since these difficult beginnings, the rapid expansion in the scale and nature of project work has been nothing short of remarkable. Ethiopia is now Farm Africa's biggest country programme with ten separate and ambitious projects in operation right across the country. Our work spans from the arid pastoralist Afar, to the impoverished yet historical Tigray, dealing with the complexity of forest areas bordering Sudan in Benishangul-Gumuz, to the stunning beauty of Bale in Oromiya. We work with extreme poverty in parts of the country, but also with huge economic opportunity, such as agricultural and forest areas of the Southern Nations, Nationalities and Peoples Region (SNNPR). Work has ranged from dairy goats and farmer-led research to pioneering sustainable community-led forest management across a wide range of forest areas.
Much of Farm Africa's work in Ethiopia has been at the forefront of innovation in the country. We were early adopters of the Village Savings and Loans Associations (VSLAs) model, introduced successfully elsewhere (hyperlinks to RWEP page) which have done so much to open up credit in remote rural areas to vulnerable women, allowing them to acquire basic assets and develop small-scale enterprises for the very first time.
Ethiopia Country Director, Michelle Winthrop, took up the theme of innovation when she described how Farm Africa had also been among the first to take action on clearing prosopis, a highly invasive and thorny plant that has left at least 1.5m hectares of otherwise productive land uncultivable.
She also referred to the ground breaking work carried out to establish 'Participatory Forest Management', a pioneering forest management model based on partnership between the government and communities for the sustainable management of forests and their resources.
Summing up what has always made Farm Africa's work in Ethiopia so special, Michelle said:
"There is one common thread running through all these achievements, which I have always found humbling. And that is the commitment of Farm Africa staff past and present to working alongside the communities. The extra time and effort involved in developing mutual trust as a basis for the technical work. The degree of respect for the poorest of the poor, the effort to ensure that everyone's voice is heard."
Learn more about Farm Africa's work in Ethiopia.
Read Chief Executive Nigel Harris' recent blogs from Ethiopia.
Read a feature article on our forestry work in Ethiopia, recently written for The Guardian's International Development Journalism Awards.
Listen to our Patron, Michael Palin, talking about our work in Tigray, northern Ethiopia, in an appeal recently recorded for BBC Radio 4.