Postcard from Zanzibar - Changing lives in paradise
21 December 2012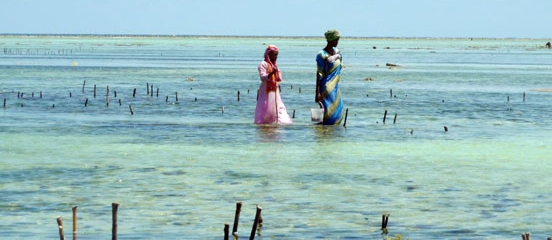 Karibu sana! Welcome to Zanzibar! As you take in the beautiful white beaches, glittering turquoise sea and palm trees swaying in the breeze, the word 'paradise' instantly springs to mind.
But life here can be hard. Over half of the population lives below the poverty line and malnutrition rates are high. Many women have very low levels of education and tend not to have control over the proceeds of their labour. As a result, they earn about three times less than the men here.
Farm Africa is working with a local organisation called SERTA to support women engaged in seaweed farming to grow more and earn more. The project offers training on the best farming techniques, providing lightweight boats to make harvesting quicker and easier, and helping the women identify alternative markets for their produce.
Seaweed soap
The seaweed can be dried and sold directly to the export market, or ground into a powder to make seaweed soap. The women's group from Matemwe village are keen to share their stories and explain what it takes to be a seaweed farmer.
As I step out into the ankle-deep warmth of the Indian Ocean with the sun shining down on my back, I begin to think that life as a seaweed farmer might not be so bad after all... Then the women start to describe their daily routine and reality hits.
Long walk to shore
You can only get to your seaweed crop for a few hours a day when the tide is out and the sun is at its highest. The shallow waters stretch out as far as the eye can see; it's a long, slow walk back to the shore, especially if you're carrying a load of seaweed on your back. And the shiny black sea urchins that I've been nervously stepping over aren't just a threat to your feet – they'll destroy your crop if they get the chance.
Despite the challenges, the women from Matemwe are upbeat and excited about the future. Jalali Juma (pictured), who has been nominated by the members as group treasurer, explains that the project has filled them with hope. They feel confident that, with the right training and support, they will soon be able to produce more seaweed and earn enough to support their families.
To the seaweed farmers in Zanzibar, and to all of Farm Africa's supporters, we wish you a very successful and prosperous 2013!