Dr. Christie Peacock is honoured with CBE
13 June 2014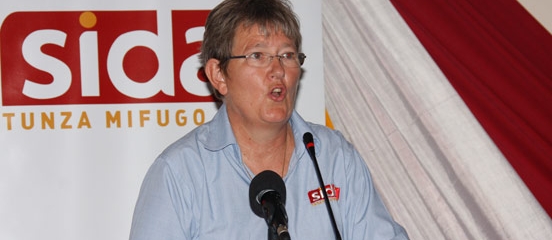 Farm Africa is hugely proud that Dr. Christie Peacock's work over three decades to improve the lives of some of the poorest and most remote people in Africa, has been recognised at the highest level, with a CBE.
Christie's entire life has been dedicated to making the world a better place, right from her early years. Her decision to study agriculture at the University of Reading was driven by this passion. Her first visit to the remote parts of northern Kenya to study nomadic pastoralists inspired her PhD research on the Maasai, one of the first systematic studies of traditional sheep and goat management practices in Africa. Christie identified that, for women in particular, goats have many advantages over cows and in 1988, aged 30, she started Farm Africa's first goat project in Ethiopia.
With only £120,000 funding from Band Aid – enough for just 12 months – and with no sign of continuing funding, Christie arrived in Ethiopia and spent weeks on the road, virtually living in a small 4 x 4 whilst she set up an office from scratch.
Christie's drive to provide the best science, technology and good practice to the poorest people meant the first project was a huge success. It provided widows with cross bred goats, giving families a much-needed source of nutrition and an asset to sell in times of trouble.
The dairy goat model was so successful that it was adopted by other agencies across Africa.
Christie faced many challenges in her career in Africa, none more so than during the change of government in Ethiopia in 1991 when an outbreak of fighting saw Christie braving gunfire to rescue some of her precious cross-breed goats by distributing them into the hands of her farmers.
Christie persuaded the Director of Veterinary Services to allow her to train women as Community Animal Health Workers to provide basic care to the goats.
Christie became CEO of Farm Africa in 1999 for the next 11 years. Under her tenure she transformed the organisation from a small informal group raising £2m annually to a highly-regarded, professional organisation with an annual income of £12m.
More recently, Christie's unstoppable drive, dedication and innovation which have been a recurring theme of her career have led her to establish Sidai Africa Ltd, a social enterprise that provides livestock care services to farmers across Kenya as a commercial business.
I am highly honoured by this award that also honours my former and current colleagues in Farm Africa and Sidai. I hope that in some way we have all made the world a better place and that I have made a contribution to developing my profession. I also hope that the award recognises the vital role that agricultural development plays in Africa."