Michael Palin showcases Farm Africa's work on BBC's 'Today' programme
15 January 2014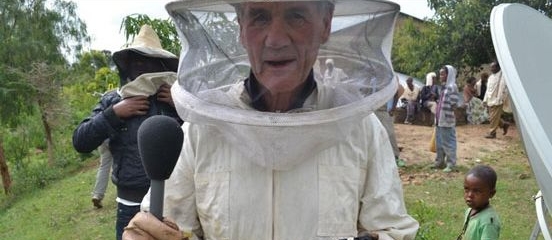 Michael Palin tries his hand at beekeeping during a visit to Farm Africa's Food Security Project in Tigray, Ethiopia.
Seasoned traveller and Farm Africa Patron, Michael Palin, has been busy in recent weeks showcasing our work in Ethiopia on BBC Radio 4's 'Today' programme. The broadcasts follow a trip that the Monty Python star recently made to Ethiopia with the BBC to find out how Farm Africa projects are changing lives in the country.
On this morning's Today programme, Michael describes his visit to our Food Security Project in the Tigray region where Farm Africa is training women and young people in beekeeping.
In case you missed Michael's broadcast from Ethiopia you can listen to it again via the 'Today' programme's website. Simply click on the 'listen again' icon, then drag the time line along to 2 hours, 42 minutes and 06 seconds into the programme. The piece was broadcast at 8.42am.
Farming land is very scarce in Tigray and young people have little, if any, access to the land and its resources. With so few opportunities, unemployment is high. Farm Africa is addressing the problem by providing women and young people in Tigray with assets like chickens, goats and beehives. With training also provided by Farm Africa, young people are learning how to make a living from their newly acquired assets.
In this morning's programme, Michael learned how beekeeping is transforming the lives of young people in Tigray and helping them to earn a sustainable living.
Today's broadcast comes just two weeks after Michael's guest-editorship of the Today programme. During the 30 December programme, Michael described how Farm Africa is helping communities in the Afar region to rid their land of 'Prosopis', a thorny and higly invasive plant that makes agriculture impossible. With their land free at last of the plant which is also known as 'the devil tree' Afar communities have finally been able to begin cultivating their land with food crops again.
And while he was in Tigray Michael also learned how Farm Africa is improving the livelihoods of women and young people by training them in how to rear goats.
He was inspired by what he saw and reflected on the impact our work is having on the lives of poor landless women in a hugely successful appeal that was broadcast last October on Radio 4.
You can listen again to the appeal in which Michael explains just what it is about Farm Africa's work that he admires so much, and why it continues to earn his support after so many years.
If you are inspired after listening to Michael describe Farm Africa's work, it's not too late to donate to Farm Africa's Christmas Appeal.
And the great news is that your donation will be matched pound for pound by the UK Government, with all matched funds going to support our life-changing work in Tigray.
Want to learn more?
Find out more about Michael's guest-editorship of Today via the BBC website.
Find out more about our work in Afar clearing prosopis. You can also watch a short video to see how the prosopis is cleared.
Find out more about Farm Africa's work in Tigray.
Read more about Farm Africa's work in Tigray in The Guardian.
Read more about how Farm Africa is training landless youth in Tigray to develop beekeeping businesses by reading this article in The Guardian.