Summit triumph for Toubkal team
21 October 2012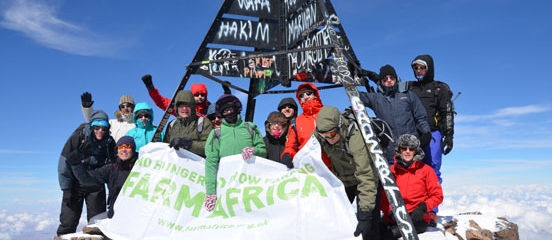 We have just heard that our amazing fundraisers successfully reached the summit of North Africa's highest mountain yesterday, and that they have now successfully descended to their base-camp at Imlil village.
The ascent to the summit of Morocco's Mount Toubkal was hugely demanding with the team walking in rain and poor visibility.
But they were ecstatic to make it to the top. James Colley from Moy Park described the view from the top as"absolutely stunning and well worth the battle with the elements and altitude. Amazing experience."
The descent to Imlil was just as challenging with the climbers all experiencing aching limbs and feet.
But they are thrilled to be back at base-camp and to have raised so much money for Farm Africa through such a challenging event.
It's still not too late to reward the climbers for all their hard efforts by making a donation here.
Farm Africa would like to extend a huge thank you to all the climbers who have gone through so much in training for and completing the climb so that they could raise money for our life-changing work.
We will be updating this page with more images and comment from the climbers very soon.